Paljon kaikenlaista tapahtuu ympärilläni ja kortteilu on jäänyt kyllä minimiin tämän vuoden puolella. Kovasti olen yrittänyt laittaa askartelunurkkaukseni kuntoon jotta saisitte nähdä minkälaisen pyödän ääressä nykyään askartelen. Juuri kun ajattelen sen olevan kunnossa keksin kymmenen asiaa lisää jota haluan muuttaa ennen kuin laitan siitä kuvia nettiin.. :)
Mutta tässä olis pitkän tauon jälkeen DT korttini Stampin for the Weekend haasteeseen. Täällä viikolla mennään helpolla teemalla, eli pääsiäinen. Itse tein korttini maalla ollessani uusilla leimasimilla, arvatkaa vaan olinko pakannut koristeet mukaan? Melko tyhjä siis minun korttini..
A lot is going on at the moment in my life and it seems like I don't have any time for crafting. I moved to a new apartment at the beginning of this year and I'm still trying to get my crafting corner ready for some pictures.
Here is my DT card for this weeks Stampin for the weekend. This weeks challenge is quite easy, just make a card or project for easter. I made my card while a few days holiday at my parents house and ofcourse I had forgotten all the emellishments at my place so the card looks a little empty.. :)

Tämän viikon sponsori/ This weeks sponsor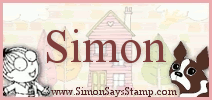 Paperi/ Paper - Basic Grey
Leimasin/ Stamp -
Magnolia

Väritetty/ Colered with - ProMarker&Copic