Vaikka yksi uudenvuoden lupauksisatani oli päivittää tämä blogi hieman useammin taidan joutua syömään sanani näin heti alkuun. Minulla on muutto (taas) edessä tässä kuussa joten ensi viikolla pitää pakata askartelutarvikkeet laatikkoon ja ties koska niitä saa sitten taas purettua.
Tällä viikolla on taas minun ryhmäni vuoro tehdä inspiraatiokorttia Stampin' for the weekend haasteeseen ja tällä kertaa halutaan nähdä jotain uutta ja jotain sinistä, mutta EI mitään häihin liittyvää. Oma kortti on, yllätys yllätys, uusi koti. Kortissa olen käyttänyt The Greeting Farmin talo leimasimia.
One of my new year promises was to update this blog a little more often. Well, now I have to move (again) and next week all my crafting supplies are going into boxes, and when I will get them unpackes.. Well, you know!
This week it's time for something new and blue over at Stampin' for the weekend, but no wedding please! I ofcourse made a new home card using the lovely house stamps from The Greeting Farm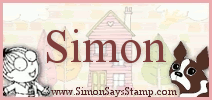 Paperi/ Paper - Memorybox
Leimasin/ Stamp -
TheGreetingFarm

Väritetty/ Colered with - ProMarker&Copic
Muuta/ Other - CreaLies flowerdie, Rhinestones, Dymo